Digital Rochester announced the finalists for the second annual 2012 GR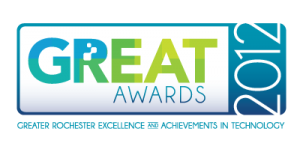 EAT* Awards, and Bitnetix is one of the finalists in Communication Technology!  The Award for Communication Technology recognizes an organization that has developed and implemented an innovative technological approach to share information within marketing, advertising or communications, and is judged based on originality, application, commercial availability, and user-friendliness.
Come join us at the Rochester Plaza Hotel and Conference Center on September 11, 2012 from 5pm til 8pm to see the awards ceremony and help cheer us on!
*Greater Rochester Excellence and Achievements in Technology