For Immediate Release
Bitnetix CEO Receives 2014 MVP Award at Nagios® World Conference
Nagios Enterprises Hosts Yearly Conference in MN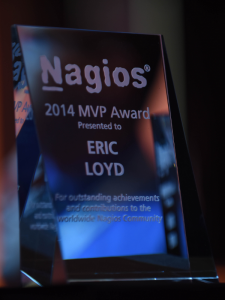 Rochester, NY (October 31, 2014) – Eric Loyd, founder and CEO of Bitnetix Incorporated (dba SmartVox), was one of five people who received a Nagios Most Valuable Professional (MVP) Award from Nagios Enterprises during the 2014 Nagios World Conference. The conference took place October 13th-16th, 2014, in St. Paul, MN. The awards were presented on Tuesday, the first full day of presentations.
From the Nagios website: "We recognize outstanding achievers within the worldwide Nagios Community through our MVP award program. Nagios MVPs are chosen based on their contributions in various areas, including Development, Technical Support, [and] Community Involvement." Bitnetix has been a Nagios certified reseller since 2012 and Mr. Loyd was a speaker at the 2012, 2013, and 2014 Nagios World Conferences. Additionally, Mr. Loyd is an active member in the Nagios Support Forums, answering over 500 customer help requests since May. "I love how Nagios can monitor IT and the real world, and enjoy helping others with their questions on Nagios topics. I look forward to presenting again at the 2015 conference."
Nagios is an open source and enterprise monitoring tool for systems, networks, servers, applications, and services, with millions of users worldwide. Nagios can send alerts when something is down and can be programmed to take corrective actions. A commercial version is also available that provides extensive customization, wizards, reporting, and graphing that some companies find more useful.
Bitnetix provides Nagios services to a diverse set of customers; from the US Navy and New York and New Jersey Departments of Justice to local schools, IT providers, accountants, and lawyers. Bitnetix anticipates providing Nagios consulting to a wider audience in 2015.
About Bitnetix
Bitnetix was founded in 2006 to provide outsourced IT management and consulting services to non-profits and small/medium businesses. Through its SmartVox division, it also provides Voice over IP (VoIP) services through both on-site and cloud-based hosted servers.
Headquartered in Rochester, New York, Bitnetix is privately held and committed to returning a portion of its revenues to local charities every year. For more information, please visit http://bitnetix.com, call 877.BITNETIX, or send an email to info@bitnetix.com.
About Nagios
With multiple awards, over a million users in every vertical and horizontal sector, an active community, and thousands of add-ons and extensions, Nagios is the industry standard in IT infrastructure monitoring. Nagios provides critical monitoring and alerting for networks, systems, applications, metrics, and business processes. Nagios Enterprises is the official commercial arm of Nagios and provides value added services, products, and solutions to clients worldwide.